My seatbacks were broken. The vinyl was torn, scuffed, worn, ripped, patched, and disintegrating. Even the staples for the material were rusted. I decided to try and make some new ones.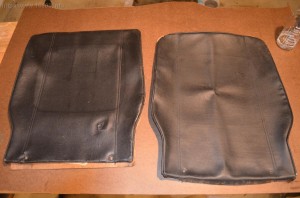 Tools Used:
Jig Saw
Sharpie Marker
Dremel or Rotary Tool
Drill, drill bits, countersink
Disposable Paint Brush
Rivet Tool
Scissors
Razor blade
Heat Gun
Supplies:
Vinyl
Hardboard
Contact Adhesive
Rivets
I drilled out the rivets on my old seatbacks, and reclaimed the brackets. I marked the position of all the holes with an old seatback. After drilling the holes, I riveted on the brackets. I then spread on some contact adhesive and let it tack up. Then I warmed up the vinyl with my heat gun, stretched it and attached it to the board. Finally, some trimming with a scissors and razor.


Marking the holes for the screws was the hardest part: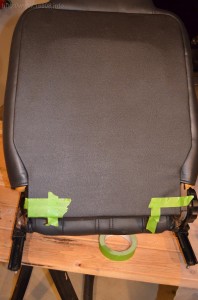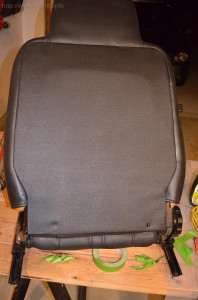 The passenger side came out great!. Unfortunately the driver's side is sub-par, and will need to be recovered at some point. For now, it's still a huge improvement.
Costs:
Item

Vendor

Cost

Tax

Total

Dap Weldwood Contact Cement

Home Depot

On Hand

Disposable Paint Brush

Home Depot

On Hand

Black Shang Vinyl

Hancock Fabrics

$ 9.49

$ 0.59

$ 10.08

4′ X 4′ Hardboard

Menards

$ 4.79

$ 0.41

$ 5.20

Rivets

Home Depot

$ 5.24

$ 0.43

$ 5.67

4 Screws, 4 Nylon Washers

Ace Hardware

$ 2.12

$ 0.16

$ 2.28

Total:

$ 23.23
Tweet