VIN 16908, my car club and I participated in the 2013 Chicago St. Patrick's Day Parade. Wind, rain, and snow didn't keep us from participating! Being the very last unit in the parade didn't keep us from particpating!
You can also see photos from the event here, and you can see my car in photo 147: http://www.printroom.com/ViewGallery.asp?evgroupid=0&userid=silentbob918&gallery_id=3234401&curpage=3
Staging on Columbus Drive, with Soldier Field and The Field Museum in the background:

Five Deloreans particpated. I was at the back: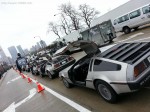 I think VIN 16908 was at the very end of the parade. The street sweepers followed us!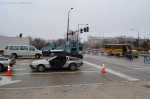 I shot video while driving, but I haven't posted it. I was also caught on instagram: http://instagram.com/p/W7lB7BFQNK/
Tweet