While showing my car at a local car show, someone stopped to talk about the car, and was asking a lot of detailed questions. Sure enough, he's a writer for RoadKill.com! The writer, Eric, asked about writing an article on the car. In September, we got together after several emails. We did a photoshoot, and an interview. In November 2016, it was published!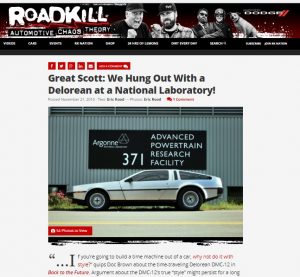 Check it out: http://www.roadkill.com/great-scott-hung-delorean-national-laboratory/
Roadkill has become one of my favorite shows. It is a big honor that there's an article about my car, and me, on Roadkill.com!
Thank you, Eric!
Tweet