My original carpet was looking ratty, and my car was also missing the board below the carpet. I decided to make a new board that would replace the carpet. It also needs cutouts for the strut bar that I use in the trunk. I traced a friend's trunk board:

Then, I cut it out with a jigsaw. I cleaned up the cuts with a rotary tool, and roughed up the surface with some sandpaper:

Next I coated it with Duplicolor Undercoating. The undercoating didn't spray evenly, and I got some globs in random places. I ended up purposely making more globs, trying to even it out and complete the look: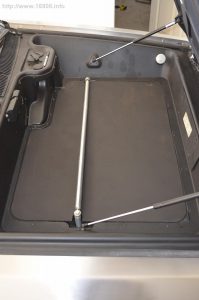 Not bad for the cost.
| | | | | | | | |
| --- | --- | --- | --- | --- | --- | --- | --- |
| Item | Vendor | Quantity | Unit Cost | Cost | Shipping | Tax | Total |
| Duplicolor Undercoating | Meijer | 1 | $ 4.99 | $ 4.99 | 0 | $ 0.42 | $ 5.41 |
| Fiber Board | Menards |   |   |   |   |   |  On Hand |
Tweet