At DCS 2014 in Dayton, OH, my front right wheel bearing started making groaning noises at high speeds.
I had to rent a puller set and spindle nut socket set from Advance Auto Parts (fully refundable).
Getting the spindle nuts off was easy. I used a breaker bar, and simply lowered the car near the floor, with the weight of the car pressing on the breaker bar: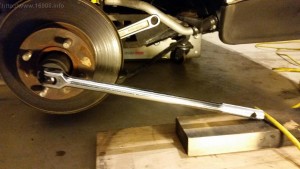 Next, I use a pick tool to remove D Washer: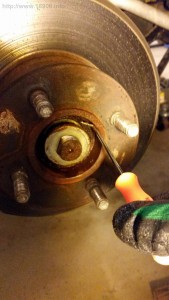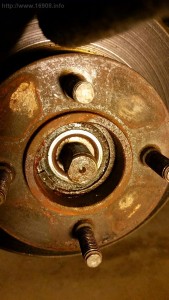 Then used a puller to pull off the bearing, hub and rotor: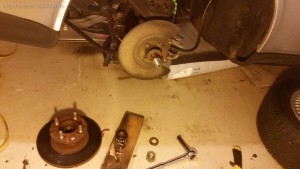 The bearings came apart during removal, which is normal: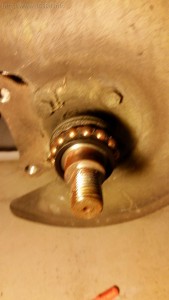 Then, unbolt the rotor from the hubs, and separate them. Sorry, no pictures.
Removing the old bearings and pressing the new bearings into the hubs was going to be a challenge. Instead of having my new bearings shipped, I visited the DMC Midwest shop with the hubs. I purchased the new bearings, and they were able to press them into my hubs.
DMC Midwest suggested I should have blasted and painted the hubs while the bearings were out. Well I didn't have time for that, so instead I taped them up, and painted them with the new bearings in place:

I also wire brushed off the undercoating from the brake dust shields, and painted them with rustoleum metallic paint, then a coat of Krylon Metals Gold paint: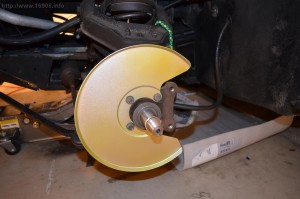 Doing this job in the winter time helps. My car is left in a cold garage, while I left the rotor and hub in my warm house. Installation is easier with the cold spindle slightly contracted. Mounted, spindle nut installed, and torqued: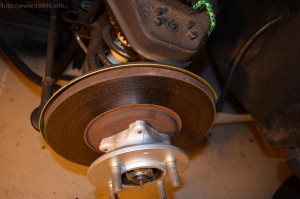 I've driven a few hundred miles on them in 2015, and the groaning noises are gone.
Costs:

| | | | | |
| --- | --- | --- | --- | --- |
| Item | Vendor | Quantity | Unit Cost | Cost |
| Wheel Bearing | DMC Midwest | 2 | $ 19.94 | $ 39.88 |
| Press in Wheel Bearings | DMC Midwest | 1 |   | Withheld  |
| Bulldog Adhesion Promoter | | | | On Hand |
| Rustoleum Primer | | | | On Hand |
| Rustoleum Metallic Paint | | | | On Hand |
| Krylon Metals (Gold) Paint | | | | On Hand |
Tweet