I've always thought my stereo sounded way to thin, and needed an upgrade. There was practically no bass in the system at all. The previous owner installed a pretty basic head unit and speakers:

While my side panels were off, I decided to replace the speakers:

These speakers got good reviews with the other Delorean owners, and fit the rear location, albeit with better hose clamps and some persuasion:

I also took the time to upgrade the front dash speakers. I'm glad I did since the speakers the previous owner installed were very low quality. I found some Pioneer speakers that fit the location perfectly: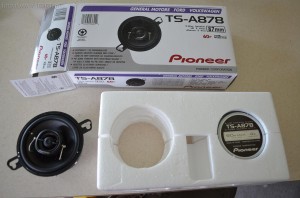 After some searching, I decided to upgrade the head unit as well. The new one features Bluetooth hands-free calling and audio streaming, wired external microphone, voice recognition, Pandora, USB direct control for iPod/iPhone, Android Media access, a remote control, and more.

It's been said the stock wiring might not handle a modern stereo's electrical needs. I took the time to run a new 12 Gauge yellow wire from the positive post behind the rear wall. A fuse holder is spliced into the wiring. Sorry, I didn't get any pictures of that.

My upgraded negative battery cable features a smaller wire that was currently being unused. I found a new use for it: dedicated ground for my stereo.

Upgrading the wiring meant I got to remove all the glass fuses behind the dash:

While my A pillar trim is removed, I ran the cable for the microphone up the A pillar: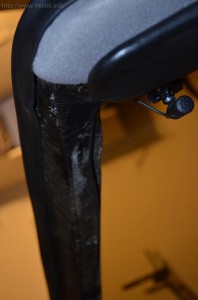 The result: The new features of the head unit are great!


I still think the sound quality isn't great. It needs more bass. I'm going to have to investigate a subwoofer.
Costs:
| | | | | | | | |
| --- | --- | --- | --- | --- | --- | --- | --- |
| Item | Vendor | Quantity | Unit Cost | Cost | Shipping | Tax | Total |
| Infinity 529I 165W (Peak) 5-1/4 -Inch Two-Way Speakers (Pair) | Amazon.com | 1 | $73.49 | $73.49 | $0.00 | $0.00 | $73.49 |
| Pioneer TS-A878 3 1/2 Inch 2-Way Speakers | Amazon.com | 1 | $33.27 | $33.27 | $0.00 | $0.00 | $33.27 |
| Pioneer Bluetooth USB SIRI Mixtrax MVHX360BT | Amazon.com | 1 | $85.00 | $85.00 | $0.00 | $0.00 | $85.00 |
| Hose Clamps | Ace Hardware | 2 | ? | ? | $0.00 | ? | $5.37 |
| Black Primary Wire | O'Reily Auto Parts | 1 | $6.99 | $6.99 | $0.00 | $0.58 | $7.57 |
| Yellow Primary Wire | Advance Auto Parts | 1 | $6.99 | $6.99 | $0.00 | $0.58 | $7.57 |
| Fuse Holder | Advance Auto Parts | 1 | $3.29 | $3.29 | $0.00 | $0.27 | $3.56 |
| heat shrink tubing (assorted box) | Advance Auto Parts | 1 | $10.99 | $10.99 | $0.00 | $0.91 | $11.90 |
| Butt connections | Advance Auto Parts | 1 | $2.99 | $2.99 | $0.00 | $0.25 | $3.24 |
| Ring Terminals | Advance Auto Parts | 1 | $3.49 | $3.49 | $0.00 | $0.29 | $3.78 |
| Assorted disconnect terminals | On Hand |   |   |   |   |   |   |
| Split Cable Wrap | On Hand |   |   |   |   |   |   |
| | | | | | | Total | $234.74 |
Tweet