New carpet
More sound insulation
New dash
Dye interior pieces
LED Binnacle lights
Footwell Lights
More to come!
Tweet
My taillights were cracked, and dull from a decade of neglect and abuse in the hot Georgia sun. The removable piece from one taillight was even melted from a bulb!?!?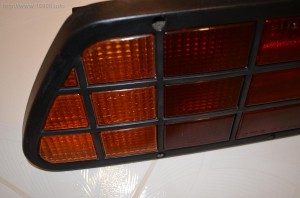 I had become jealous of the glassy, perfect appearance of the taillights on other Deloreans. So I found a good deal on some used, but good condition taillight housings. They don't appear faded, and only have light surface scratches:
Newer taillights before cleaning: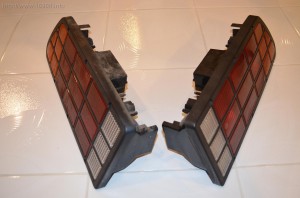 To clean them, I would fill them with hot water, and drain them, removing all the dirt and bugs.
Cleaning Tip: You can clean all the grooves between the lenses with an old toothbrush, which should not scratch the plastic.
After a soap and water cleaning, they looked better. Some light surface scratches visible

After some buffing with Meguiar's PlastX, any dirt has now been removed, and the scratches are gone. They really pop!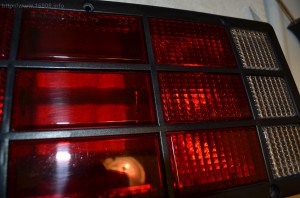 The polish really removes any deep dirt. The white terrycloth towel used to be clean.

Old housings on the left, newer on the right: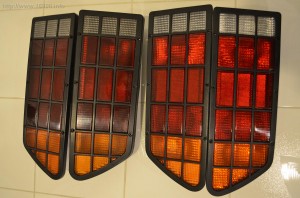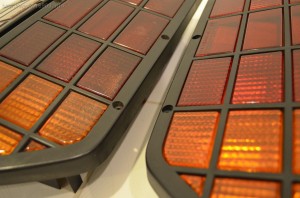 With new taillight housings costing $300, I saved some money, and I'm very happy with the results. As for my previous taillight housings, I might try to sand off any imperfections, and black them out. That should cover up the cracks. If they turn out nice, I would swap housings whenever I felt like it.
Costs:

Item
Vendor

Cost

Tax

Total

(2) Used Taillight housings

Withheld

$ 150.00

$ 11.63

$ 161.63

Meguiar's PlastX Clear Plastic Cleaner and Polish

Amazon.com

$ 5.97

$ –

$ 5.97

Total: 

$ 167.60
Tweet