After spending most of the 1990s baking in the Georgia sun, my stock steering wheel had its leather peeling off:
Recovered steering wheels go for nearly $300. The new Momo steering wheels being offered cost $300, and looks great in DMC (Houston) Electric Delorean:

I found an alternative. This imitation wheel costs $35 on eBay:
Bought it:
DMC (Houston) sells a steering wheel adapter, but I tried to find a less expensive version. I bought a GM style steering wheel adapter off eBay. However, I found it needed to be cut down and new holes needed to be drilled:
Without the proper tools, and with car show season approaching, I opted to buy the more expensive adapter from DMC Midwest: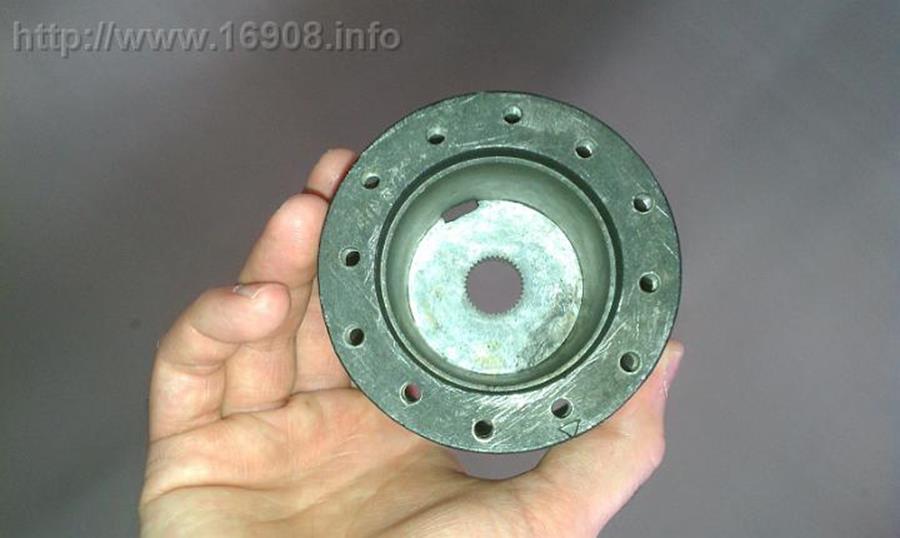 Everything installed:
I plan to create a DMC logo for the center of the wheel. This project ended up being more expensive than I planned. In the future, I plan to resell the GM steering wheel adapter on eBay.
**UPDATE 8/10/2013 **
DMC-H sold out of their steering adapters, creating a demand. I sold the GM steering adapter to another Delorean owner in Greece, who really wanted an adapter. The owner understood he would need to do some serious modifications to the adapter.
Costs:
| | | | | |
| --- | --- | --- | --- | --- |
| Item | Vendor | Price | Shipping | Tax |
| Steering Wheel Adapter | DMC Midwest | 69.95 | 12.99 | 5.42 |
| Evo Style Steering Wheel | eBay | 35 | 0 | 0 |
| GM Chrome Steering Wheel Adapter | eBay | 29.99 | 6.99 | 0 |
|    |    |   | subtotal | 160.34 |
| GM Steering adapter Sale |    | 52.00 |    |    |
| Paypal Fee |    | -2.33 |    |    |
| Shipping |  USPS | -20.45 |    |    |
|    |    |    | Total | 131.12 |
Tweet